First of alllllll --- Just a shout out ... to Shawn Spencer ...aka
James Roday
I love the show and if you havn't taken a saturday off to chill out and catch an episode you are tottally missing out.. Just alittle FYI.
OKAY I JUST SPENT 45 minutes trying to post
this
video on the blog but i apparently have such a level of retardation (yes i just went obama on you all) I can't use Youtube embed options. Oh well,
THE POINT!
80's obsecure references are awesome and so is Psych, done!
------------------TUI PAPER WATCH
OK! on to Day 9 of the paper WATCH! I finally finished writting the finale 3-4 pages and i can no longer turn in papers. What a disappointment RIGHT?!
The session is offically closed on the website. So, i guess i'll just wait to hear back from my teacher. I feel like that was a wasted 2 hours. It shouldn't ruin my GPA that much. I had straight A's through the class and one unturned in paper shouldn't drop my average for the class that much. Hopefully anyways.
------------------------- Mariners Update
Mariners CREAMED the Indians with ol' Russ Launching one out of the stadium in left field... flippin awesome! See the box score
here
With everything happening right now with the Mariners i'm alittle disappointed but at the same really excited.
Brandon Morrow is headed back to the bullpen which almost everyone in Seattle by now knows. I don't think this is a bad thing because Rowling-Smith (RRS) will just take his spot in the rotation and i think he's got a much higher ceiling as starter. I'm sure everyone would find that blasphame however Morrow has had problems keeping his Blood Sugar levels in check while pitching over the course of a game. Brandon has Type 1 diabetes which is very unstable. Here is some info on it if you want to do any
research
Bottomline RRS is moving to the back of the rotation and Morrow is going to be the closer.
The only eventual problems i really see are the fact that we just signed Josh Fields and he's our BIG #1 PICK! so what do we do? I can just see that there is a trade in the works that kinda scares me....
It would be very interesting to see what will happen. However, a bullpen combo of Morrow/Fields would be awesome! I just don't see them spending that much money on the back end of the bull pen when the front line rotation is CRAP!
Possibly best 1-2 punch in the game...
1 - Hernandez - R
2 - Berdard - L
However the significant drop off at 3,4
3 - Silva - R
4 - Washburn - L
I don't see Washburn sticking around past August. Either he is traded or will be dropped onto waviers. I really like what we've seen out of Chris Jakubauskas early thus far. he's who i see stepping into Washburns rotation slot. However there is also Garret Olson who is avilable and so is Jason Vargas that both worked out in spring training, but i think Jakubauskas looked the best.
then the 5th spot,
5 - Ryan Rowling-Smith - L
Who is another left handed pitcher and yes that makes three in the rotation but he really is the best pitcher avilable and since stepping up last year he has shown that he has exactly what we need. He may never be an Ace but he could be a potential 3 - man in the rotation.
With Silva in year 2 of a 4 year contract i see him becoming the number 5 pitcher in this rotation next year. BUT! i don't think that is bad. He could very well fill in that position well. He just isn't worth the 48 million we are paying him.
One last thing ... Eric Bedard our number #2 is a Free Agent this year... i would love to see him stick around but if the Mariners Front office get the inkling that he is off to the highest bidder in November i think they will deal him come August to help streangth in our Farm system.
-------------------------------- North Vs. South
Just so you know there are people here that don't know this war was over.
Becareful while traveling below the Mason-Dixon line.
-----------------------------Oddities
I've always felt like a cross between J.D. and Shawn Spencer. I think that's what i like the show as much as i do.
"Oh, you mean my pilot's license? That's out back in the Cessna. Or perhaps you're referring to my license to kill. Revoked. Trouble at the Kazakhstan border. I could give you the details but then I'd have to kill you, which I can't do because my license to kill has been revoked. "
-Shawn Spencer
"Nothing's worse than a ninja - they're masters of every style of combat. "
-J.D.
That last one is so true. I mean seriously ... THEY CAN KILL YOU ANYWAY THEY WANT... except for guns. Do ninja's use guns? That is something google will have to answer very shortly.
I must admit my blog name 'The Running Monolog' is a tribute to the constant monolog that runs in my head much like J.D. from Scrubs. I think thats the only way i've learned NOT to be so obnxious...
...
...
This is the part to where everyone in Altus/Montgomery starts crying thinking HE COULD HAVE BEEN WORSE?!?! yes, infact it could have been. But, on the other end of things you guys could have had alot more to laugh about. consider that!
But with this monolog i have to stop it sometimes because it randomly comes out and usually when i'm tired. Ask AJ sometime about the DUCKS! they attack people at random! lol! seriously ..
--------------- PINK BEAR COUGAR PIC INTERNET PIC O' DAY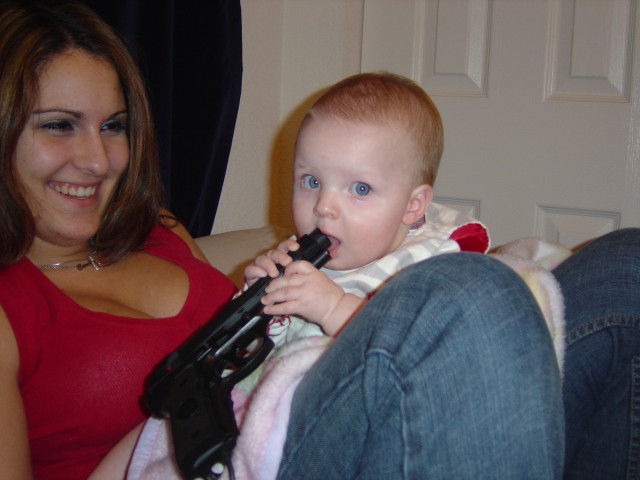 This must have been a family from the south ... that's all i can say ....